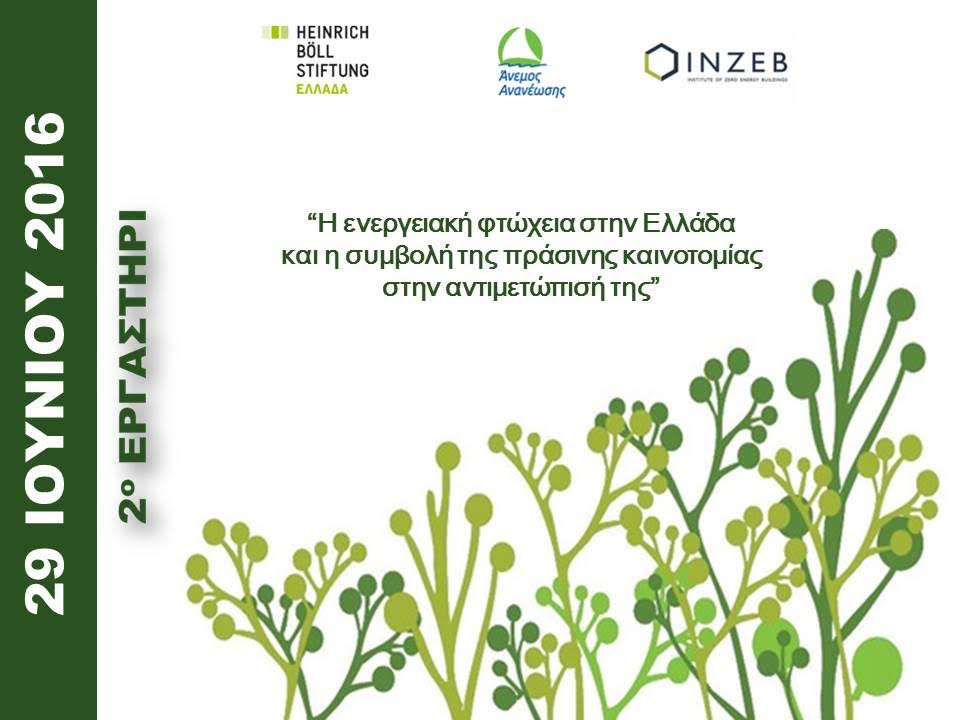 Invitation to the 2nd Workshop on "The status of Energy Poverty in Greece and the contribution of green and social innovation to address the problem"
The Heinrich Böll Foundation Greece, the social cooperative ANEMOS ANANEOSIS / Wind of Renewal and the Institute for Zero Energy Buildings, which are active in the fields of ecology, energy savings and sustainability, joined forces with the aim of publishing a policy report on "The status of Energy poverty in Greece and the contribution of green and social innovation to address the problem". Within this context we organised the 1st workshop in Athens, in April, which had as its main objective the exchange of views and good practice in dealing with energy poverty. See more here
The 2nd Workshop is scheduled to take place on Wednesday 29 June 2016, in the Alkioni Hall of the Electra Palace Hotel (N. Nikodimou 19-20, Athens) from 14:00 – 20:30.
The first part of the workshop will be organised as a round table and it will focus on financial tools to deal with the energy poverty through social and green innovation.
An open event will follow, where the draft of the Policy report we are working on will be presented and with the proposals include in the draft as a starting point, the discussion will focus around the contribution of green and social innovation in dealing with the phenomenon.
Registration: windofrenewal@gmail.com, info@gr.boell.org, inzeb@inzeb.org
It would be our great honor if you were to accept this invitation as we believe that you can contribute greatly to the success of the event thanks to your knowledge and experience on financial tools. Please inform us on your availability as well as on your short input (title and content) not later than 17 June. In addition, we would like to invite you to participate actively in the discussion during the open event which will follow. Finally, we would appreciate your comments and suggestions for improvement in writing on the draft text of the policy report which we will send to you by 23 June.