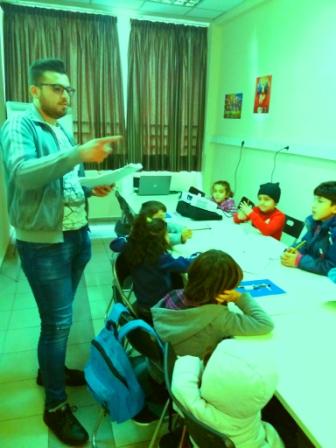 Hello, I am Ahmed, 21 years old, from Syria. I was a college student who studied pharmacology, from a sort of well-to-do family. I dreamed to be a doctor in Syria as my father wished, moreover, to help people with my knowledge, but as you guess, my life changed a lot for last few years.
The changes of my life came to me all by sudden. One day, when I just had a time in my university, some of armed men took me and imprisoned me to the jail without any light. I got threatened for life, beaten up, and had to eat what they provide which I doubt it was for animals. It was only 7days after I lost my father. My mother had to find me even before she consoled herself from losing her husband.
I got released after my family gave them a vail for me. I was so wrapped with fears, and I was afraid of strolling the street, I was afraid of going school, even I couldn't trust my friends. They got me only for 11 days, but my life changed completely. I lost my home at my home! I couldn't stroll the street, I couldn't freely talk to my friends. I felt like I was going to captured and imprisoned any time soon.
"Ahmed, you have to leave home for your future!" My mother urged me to leave Aleppo, Syria, where I was born and raised, a place where I dreamed a dream. I had to prepare to leave putting aside my dream to help people after I become a doctor, and contribute to the development of my beloved country. Packed a small bag for simple journey, borrowed some money from relatives for travel, I left Aleppo one year ago.
However, I didn't leave Syria from the beginning of my journey. I went to a small town in Syria where my friend was working as a pharmacist. I worked with him for 5 month, but the small town became not safe anymore because of extension of the battlefields. I had to leave again, but I joined an organization working in a refugee camp near by the border. Helping doctors, I dispensed prescriptions. I tried to be optimistic and showed smiles to people during the work, but the horrors of war made it difficult more and more. Eventually, after 6 months in the camp, I decided to leave Syria.
As other refugees experience, it was not comfortable trip to Greece, at all. After leave from Syria, I went to Izmir in Turkey to take the boat to Lesvos island which belongs to Greece. Sometime I crossed the borders risking my life over the broker who never met before. But, you know what, the most difficult situation I suffered from was that 'I don't know what's going to happen.' It was difficult to just wait result of the application for the refugee status and relocation, which I don't know when the work is going to be over.
I came to Athens for some help because I was finally out of money. But few days after I arrived in WELCOMMON center in Athens, I heard good news that I will be relocated to Belgium. The latent hopes spurted out from deep inside of me, and I decided to do something good for other people those who should wait little longer than me. I wanted to talk about the hope through the education. So, I initiate children's school in the center. Now, I am sharing the value of hope with around 15 children, every day, through the math, English, and Arabic language classes.
I will be relocated to Belgium very soon. Now, I even more dream about my future as a doctor. I witnessed and experienced that how much the world need doctors who can take care of poor and week. I want to be a doctor and I want to be 'there' where I needed them such as refugee camps. I will try my best to learn the language first, and try to study in Belgium. Actually, what I dream in the innermost recesses of the heart is that I want to establish a volunteers' community for Syrian people in sometime.
I brought one doll from Syria. A small bear with white gown, wearing brown glasses. Whenever I felt hopeless, I saw the bear and told to myself. "As long as there is hope I don't fall down."(the end)