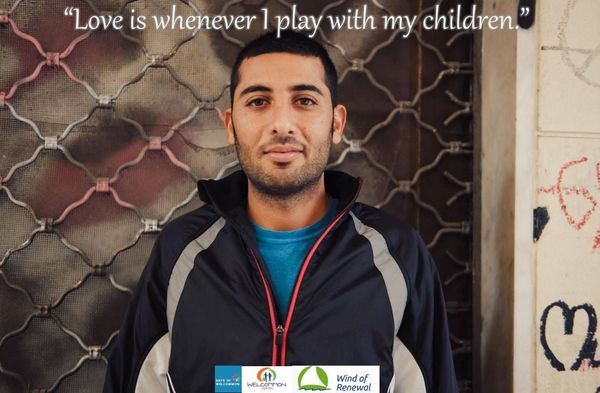 Refugee faces (No1), from Welcommon Hostel. The real stories of refugees 
The story of Hamid: Love is whenever I play with my children
During COVID – 19, we – the social cooperative Anemos Ananeosis / Wind of Renewal – are hosting about 50-60 homeless vulnerable refugees in our innovative and inclusive WELCOMMON HOSTEL. Additional to accommodation and interecultural courses we already offer them, we want to aware the citizens of the real problems and needs of the refugees, therefore we will present the real stories of them.
If you want to support our work, go here: www.gogetfunding/welcommon
Portrait n°1 : Hamid
"I'm from Afghanistan. I've been in Greece for one year and one month. Two months in Athens. The rest of it in Moria. I decided to come to Greece because our lives were in danger in Afghanistan and also for the future of the kids.
Love is whenever I play with my children. It makes me happier than anything else. Everything is a memory with them. There is a particular story about a moment when we were terrified but we also love laughing about.
We were on a way from Turkey to Greece. One day we were in a park and it was a cold day and we put our 1,5 year old son in a box to keep him safe and warm. We were resting and fell asleep and at one point my wife realized that somebody was trying to take the box with our child. It was a person cleaning in the park. We realized we need to be more cautious since then!
I would like my children to become football players. That's the only thing I would like them to become in the future."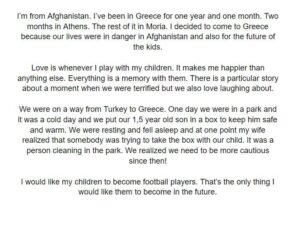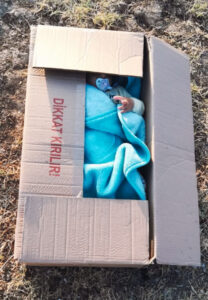 What is the WELCOMMON HOSTEL and the WELCOMMON project
The WELCOMMON Hostel is an innovative hostel run by the social cooperative enterprise Anemos Ananeosis / Wind of Renewal. We provide safe accommodation, promote social inclusion and propose non formal education to travellers who needs it. To do this we use our 7 storeys building with its 167 beds and its 2 floors dedicated to education and intercultural activities. If you've ever come into the Welcommon you probably felt that it is a special place, a place where you can meet people, learn from them… it is a community.
We  and various organisations are stepping up to provide emergency accommodation to as many families as we can in the Welcommon hotel during COVID-19. During this new lock down we are hosting a number of people from Afghanistan, Turkey, Syria, Lebanon, Algeria, Palestine, Congo. Many of them children, women, young refugees.
Since the creation of the Welcommon Hostel in 2018, the aim has been to be self financed by sustainable tourism. All was going well since the Covid crisis reached Greece in March 2020. With the collapse of tourism and the various crises that occured since the spring, we and our collaborators find ourselves in a position of financial struggle.
That's why today we need your help to take some of the burden away. Anything you can give will help, from a single euro to larger donations, to help keep the Welcommon Hostel open and the people we host out of the streets this winter. To financially support us:
https://gogetfunding.com/welcommon/
And if you are not able to give, sharing this to as many people as possible is also a great help!
#tellyourstory #refugeeswelcome #refugeestories #WelcommonHostel #daysofwelcommon #WindofRenewal #WithRefugees #socialinclusion #empowerment #Athens #LeaveNoOneBehind #erasmus #EuropeanSolidarityCorps