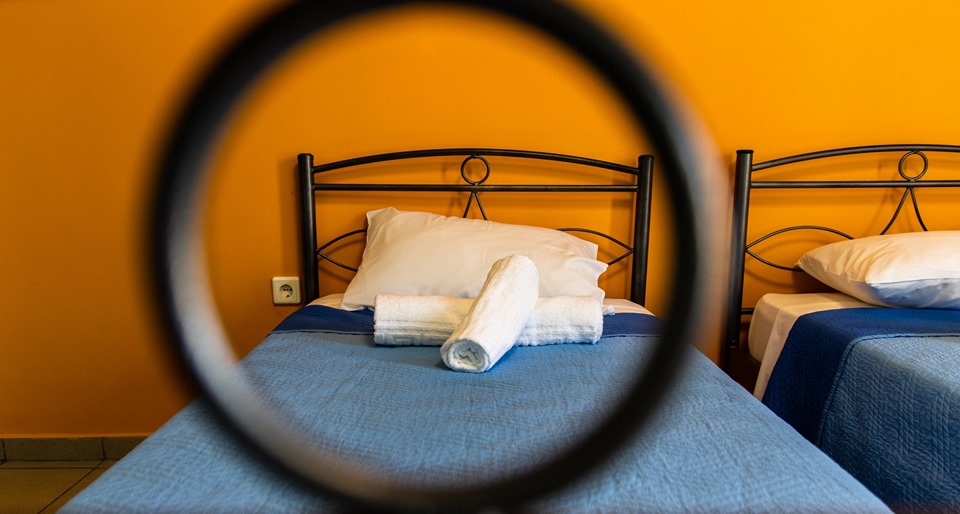 Welcommon Hostel is an innovative hostel with strong social and green impact. It is located  in the center of Athens, at the heart of youth, social and cultural activities, easy to reach with public transportation, 400 meters from Omonoia Square and 900 meters from Syntagma Square, close to the archaeological museum, 3 minutes on foot from the public transport systems' hubs (Omonoia and Kaniggos sq), in a  distance of 10 minutes on foot from Acropolis, Museum of Acropolis, Syntagma sq, the Parliament, Monastiraki flea market, Plaka neighborhood and Athens downtown, at the borders of the Exarchia neighborhood with many youth cafes and cultural activities.
It is the first hostel in Athens run by a Social Cooperative, Anemos Ananeosis / Wind of Renewal established in 2014 for the promotion of social and green economy and innovation, intercultural dialogue, climate action, green transition, sustainable tourism. Two of our flagship projects are, the Welcommon center for housing and empowerment of refugees (9/2016-2/2018) and a follow up, the Welcommon Hostel, from June 2018 until today.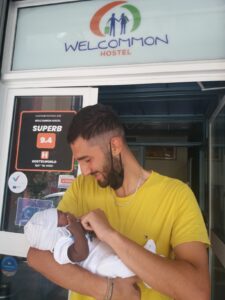 Welcommon Hostel offers accommodation to people of all ages and all the travellers without discrimination. It is a hostel for sustainable tourism, an option for accommodation of social, cultural and environmental active persons and groups during their stay in Athens, as well as a centre for the promotion of intercultural dialogue, social and green innovation, social empowerment and inclusion, job integration of refugees.
Welcommon Hostel opened at the end of June 2018, after a general renovation of the building based on a re-use and green approach aimed at turning it into a youthful, comfortable and creative hostel.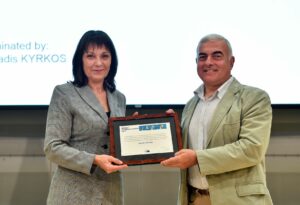 We have received 11 international and European awards and distinguishes for our social and green impact, like:
SOSCARs 2021 EXTRAORDINARY Hostel Hero 2021  / 1st place at the global level,  for our social work during COVID-19 (by the Hostel World network)
CEB 2021 award, shortlisted in the 5 best social inclusion projects in Europe (by the Development Bank of the Council of Europe),
European Citizen's Prize 2018 for our contribution in the promotion of the European values (by the European Parliament),
SOSCARs 2021 EXTRAORDINARY SUSTAINABLE Hostel 2021, shortlisted in the 5 best sustainable hostels at the global level (by the Hostel World network)
voted as the best social project in Greece for 2019-2021 in the framework of the social competition organized by the Greek network of the Euro Med "Anna Lindh Foundation"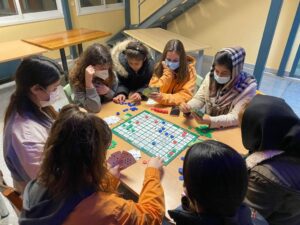 Welcommon Hostel is part of the LE MAT Network for the promotion of sustainable tourism: special people, places, values. Anemos Ananeosis is a member of the Anna Lindh Foundation for the promotion of the intercultural dialogue, RESCoop.eu (the federation of the European energy cooperatives) as well as of the REVES network of authorities and social enterprises for the promotion of social economy and DIESIS network, the ecosystem of social economy. We have close collaboration with european netoworks like Social EConomy Europe, Rre-use etc.
Welcommon Hostel is also a member of the Hostel World's network as well as of Greek Youth Hostels Association and Hostelling International, the global networks of hostels that enable travelers to meet people of different cultures, backgrounds and experiences, and provide a rich resource for learning and for building a better, more peaceful world.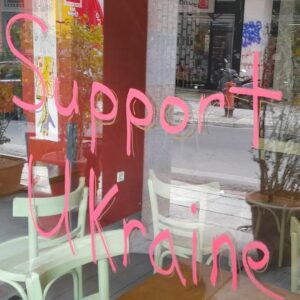 Social activities / social impact:
Welcommon Hostel always hosts volunteers from various European – and not only – countries. Since 2016 we have hosted more than 400 volunteers from all over the world, for 2-12 months. Our volunteers run on a daily basis our social activities, such as: language lessons for adults and teenagers, art classes, social events, walking tours etc. Since 2018, and especially during COVID-19 we have hosted in Welcommon Hostel, in safety and dignity – although without a grant or funding project – more than 600 vulnerable, homeless refugees, while more than 8000 refugees, volunteers, tourists, students, Erasmus participated in our inclusive, intercultural and interactive courses, events, activities. We have close collaboration with human rights, environmental and social organizations, networks as well as with communities of refugees and migrants.
Eco-Sustainability / Green hostel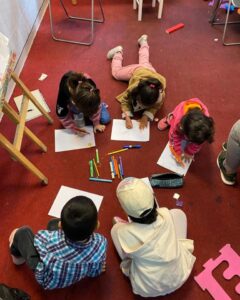 Gradually we turn the Welcommon Hostel into a demonstration building for sustainability, energy efficiency
we changed all the 2400 lighting to LED – energyefficient systems,
we have installed 20 solar panels for heating the water used by our clients,
we managed to reduce the consumption of energy, electricity, oil, and CO2 emissions up to 50-60%
We are looking to turn the hostel into an almost zero emissions building, in the future, by using hybrid solar panels for heating / cooling of the building and producing electricity for the hostel' s needs.
We welcome any networking with organisations and institutions, even social investors willing to support and participate in our project
If you know organisations and institutions willing to collaborate with us and even support our efforts, please give us a contact. Although we are working for the social good and green transition, we are excluded from the COVID-19 measures in Greece (as we are not for-a-profit organisation and there is also discrimination against social cooperatives in almost all the financial measures by the government and the regional authorities, although much of the money if EU). As we want to be independent related to housing and empowerment of refugees but also to promoting green and climate action and projects, we created the Welcommon Hostel in order to finance our projects. COVID-19 and the impact on tourism and societies raised obstacles in our effort to self-financing our projects and social / green work. We survived but we need you help.
Please have a look:
www.instagram.com/welcommonhostel
www.instagram.com/welcommonproject
www.facebook.com/welcommonhostel