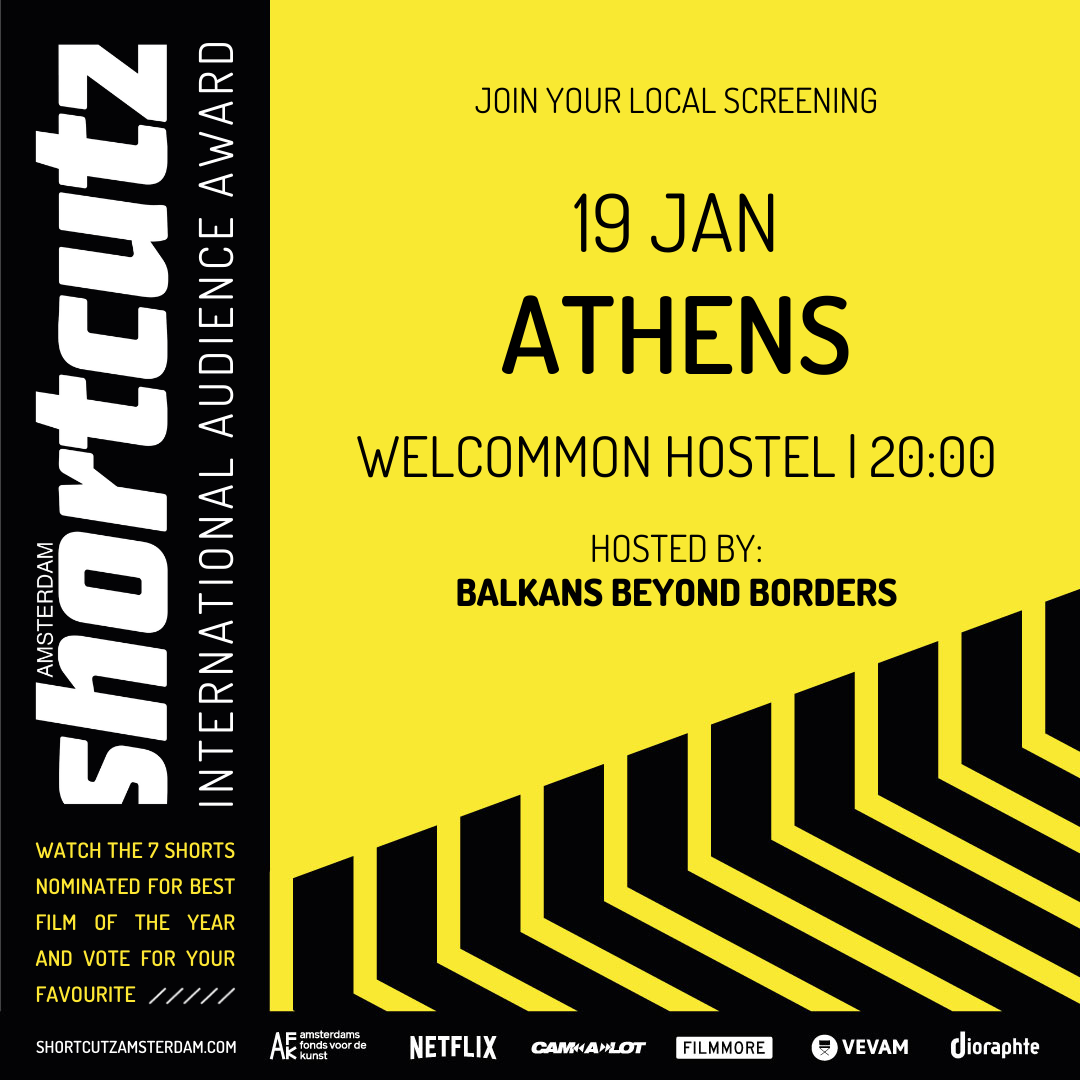 Shortcutz Amsterdam International Audience Award – Athens screening
in Welcommon Hostel
The Shortcutz Amsterdam International Audience Award Tour makes a stop in Athens, for the third consecutive year, with 7 short films by young Dutch filmmakers. The screening is organized once again by the organisation Balkans Beyond Borders in collaboration with Shortcutz Amsterdam, Anemos Ananeosis / Wind of Renewal and the Welcommon Hostel, inviting the Athenian audience to get to know the new Dutch film scene and vote for their favourite film. The screening will take place on Thursday 19/01 at 20:00, at the Welcommon Hostel. The entrance is free.
Each year Shortcutz Amsterdam presents a selection of Dutch short films on a World Tour through its international network. After last year's screening in Athens, we are pleased to be once again one of the 30 partner countries that will host the films, one of which will be awarded the Shortcutz Amsterdam International Audience Award, through a voting process by the viewers.
The films MR ZEE BEST FILM: :
Cage, Rumi Kaul, live-action, 7'12''
Funkele, Nicole Jachmann, live-action, 16'09''
Ιn between Glass and Walls, Razan Hassan, documentary, 14'25''
Science Around Us, ARIV, live-action, 20'
Spotless, Emma Branderhorst, live-action, 15'41''
The Smile, Erik van Schaaik, animation, 16'
What killed Timmy Benson, Nick Cremers, animation, 14'08''
All films screened at Shortcutz Amsterdam are viewed by a Jury Team, consisting of some of the most respected names in the industry, who vote for the finalists. The winner of the 10th Shortcutz Amsterdam International Audience Award will be announced on January 22nd and streamed live on the Shortcutz Amsterdam website.
This year's screening of the Shortcutz Amsterdam International Audience Award is held under the communication support of the Dutch Embassy in Greece.
Venue: Welcommon Hostel, Kapodistriou 4, Athens
Free Entrance
Facebook event: here
Meet the organizing team:
Balkans Beyond Borders is focusing on networking and promoting emerging young artists and is collaborating with Shortcutz Amsterdam to present the short film to the Greek audience, while participating in a global network of film creatives and cultural professionals.
Shortcutz Amsterdam is the only initiative in The Netherlands exclusively focusing on promoting new Dutch film talent and connecting up-and-coming filmmakers with established professionals. It promotes new Dutch cinema through its network of over 50 partners, festivals around the world, and several special affiliated events.
Anemos Ananeosis / Wind of Renewal (WoR) is a social cooperative founded in Athens, in 2014, born out of a desire to help in social and green innovation and transition of Greece, promote social and green innovation and economy, intercultural dialogue and sustainable tourism. WoR has a strong commitment to building a better world through social and green innovation and the cooperative business model. WoR has received 11 international and European awards and distinguishes for its social, intercultural and innovative work for people, inclusion and sustainability.
The Welcommon Hostel, a project of Wind of Renewal, is combining sustainable tourism with social and cultural activities, job opportunities and integration for people with different social backgrounds. As a center for innovation and art, it aims to act as an experiment for ways in which culture, creativity and employment integration might cohabit in a 'learn' and 'share' approach, which encircles a multitude of activities like art exhibitions, music events, theater, cinema and cultural trips.