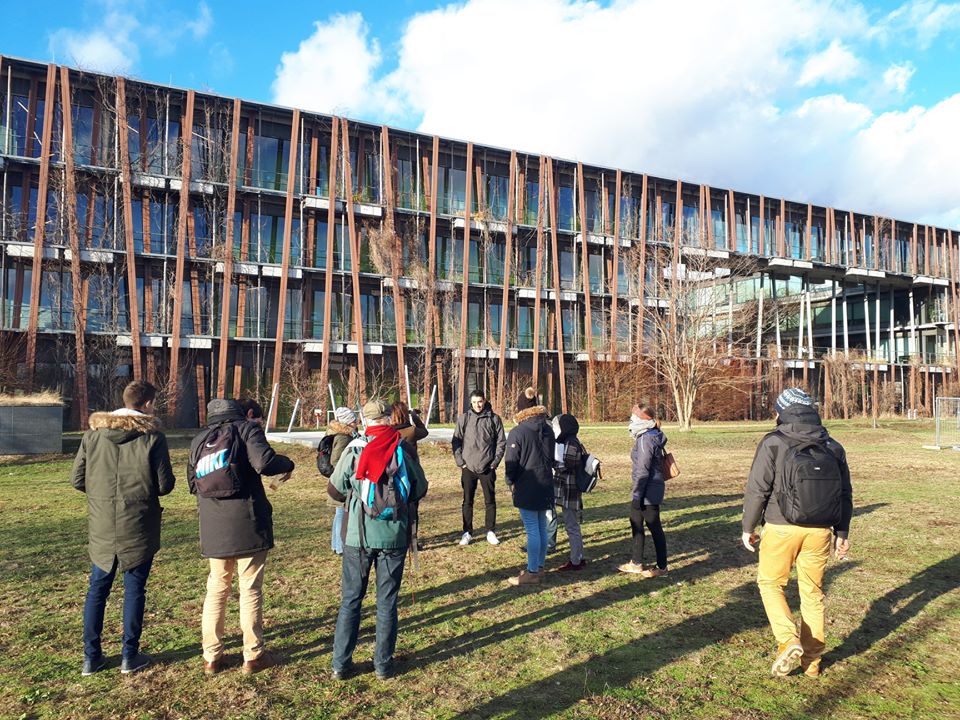 "YESClima:Young experts for climate-friendly schools in Mediterranean countries"
Final Event YesClima 2020 | GREECE"
5/11/2020, at 16.00-18.00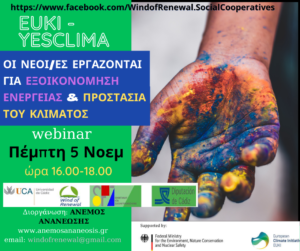 An online discussion on "youth work on climate protection and energy saving", organized by Anemos Renovation in the framework of the EUKI YESclima program on Thursday 5/11, from 16.00-18.00 (the discussion will be in Greek).
The event, which will be broadcast on Facebook and YouTube, will discuss with specific examples how climate protection contributes to the creation of new quality, green jobs and reduces costs for heating and cooling of public and private buildings.
WHEN? -> at the 5th of November,
WHERE? -> in the WELCOMMON Hostel, an innovative hostel with social impact and a center for social innovation dedicated to promote green and circular economy and employment in green, social and cultural sectors
but also! in our online event on facebook & youtube!!
We would be more than happy to invite you to take part in this event, in order to exchange knowledge, experiences and good practises for more climate-friendly buildings and educational centers as well as for green jobs on energy efficiency and climate protection.

The program of the event is:
16.00 Greetings and description of the project carried out within the framework of EUKI YESclima by Nikos Chrysogelos (President of the Social Cooperative: "Wind of Renewal")
16:10 Greetings by Francisco José Sánchez de la Flor, (Professor Titular de Cadiz University, Director of the Department of Machines and Thermal Engines, Superior School of Engineering. Universidad de Cádiz, Spain, project coordinator (English))
16.15 "Results of energy control project in 9 school buildings and a hostel within YESclima": Dimitra Beleri, (architect), Ioanna-Athina Georgopoulou (building physicist).
16.35 "Experience from my participation in the YESclima project": Agapi-Evangelia Tsampazi (Civil Engineer AUTh., M.Sc., Ecology Program Coordinator, Heinrich-Böll-Stiftung Foundation, Greece)
16.45 "Climate protection and energy saving in Municipality's  schools – the experience of cooperation in the framework of the EUKI-YESclima program": Maria Androutsou, (Mayor of Agios Dimitrios)
16.55 "Climate protection and energy saving in Municipality's  schools – the experience of cooperation in the framework of the EUKI-YESclima program": Alexis Mavragannis (Deputy Mayor of Vrilissia)

17.05 "From the level of the building we are now moving to the level of the neighborhood – interactions and new approaches at European level", Michalis Goudis (Director of the Heinrich-Böll-Stiftung Foundation, Greece, former communications manager of Housing Europe, the European Federation of Public and Private Michalis Goudis)

17.20 Discussion – Interventions, questions and answers (Q&A)

17.45 Closing by N. Chrysogelos
The event in Spain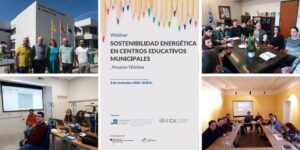 Energy saving and natural heating – cooling systems
Natural heating and cooling methods use less energy and are frequently more economical. However, many educational buildings in Spain and Greece use expensive and energy-consuming heating and air conditioning systems instead of more efficient and climate-friendly solutions. The condition of most of the educational centres should be improved. It is a fact that more climate-friendly solutions are rarely used.
The YESclima project is an EUKI program that aims to train young experts in energy related topics, to carry out energy audits in primary schools and to provide advice to the municipalities involved in the project. With their practice and additional training, the project goal is to increase their chances of working while at the same time contributing to reducing emissions from heating and cooling in public buildings.
In the framework of the program "YESClima: Young people working for climate protection and energy saving" 11 young people from Greece, organized in 3 groups, after a theoretical training and practicing for 6 months, they acquired knowledge, skills and abilities so that they can work professionally in energy saving techniques in buildings. All three of the teams, firstly, visited 8 educational centers in Athens in order to evaluate their energy audits based on the existing equipment and newly acquired knowledge. After that, their task was to compose technical essays where the current energy behaviour of the buildings is estimated and elaborate on measures and techniques that could improve the the indoor climate and thermal comfort as well as provide data concerning the energy savings in the heating and cooling of buildings, and thus also economic savings for the local authorities that manage the schools.
---
In Greece this project is organized by the Social Cooperative "Anemos Ananeosis / Wind of Renewal" with the collaboration of two municipalities of Attica, Ag. Demetrios and Vrilissia, the University of Cádiz-Andalusia (UCA), the Provincial Energy Agency of Cadiz (APEC), the Sekretariat für Zukunftsstudien Berlin an der Freien Universität Berlin.
This project is part of the European Climate Initiative (EUKI). EUKI is a project financing instrument by the German Federal Ministry for the Environment, Nature Conservation and Nuclear Safety (BMU). The EUKI competition for project ideas is implemented by the Deutsche Gesellschaft für Internationale Zusammenarbeit (GIZ) GmbH. It is the overarching goal of the EUKI to foster climate cooperation within the European Union (EU) in order to mitigate greenhouse gas emissions.'