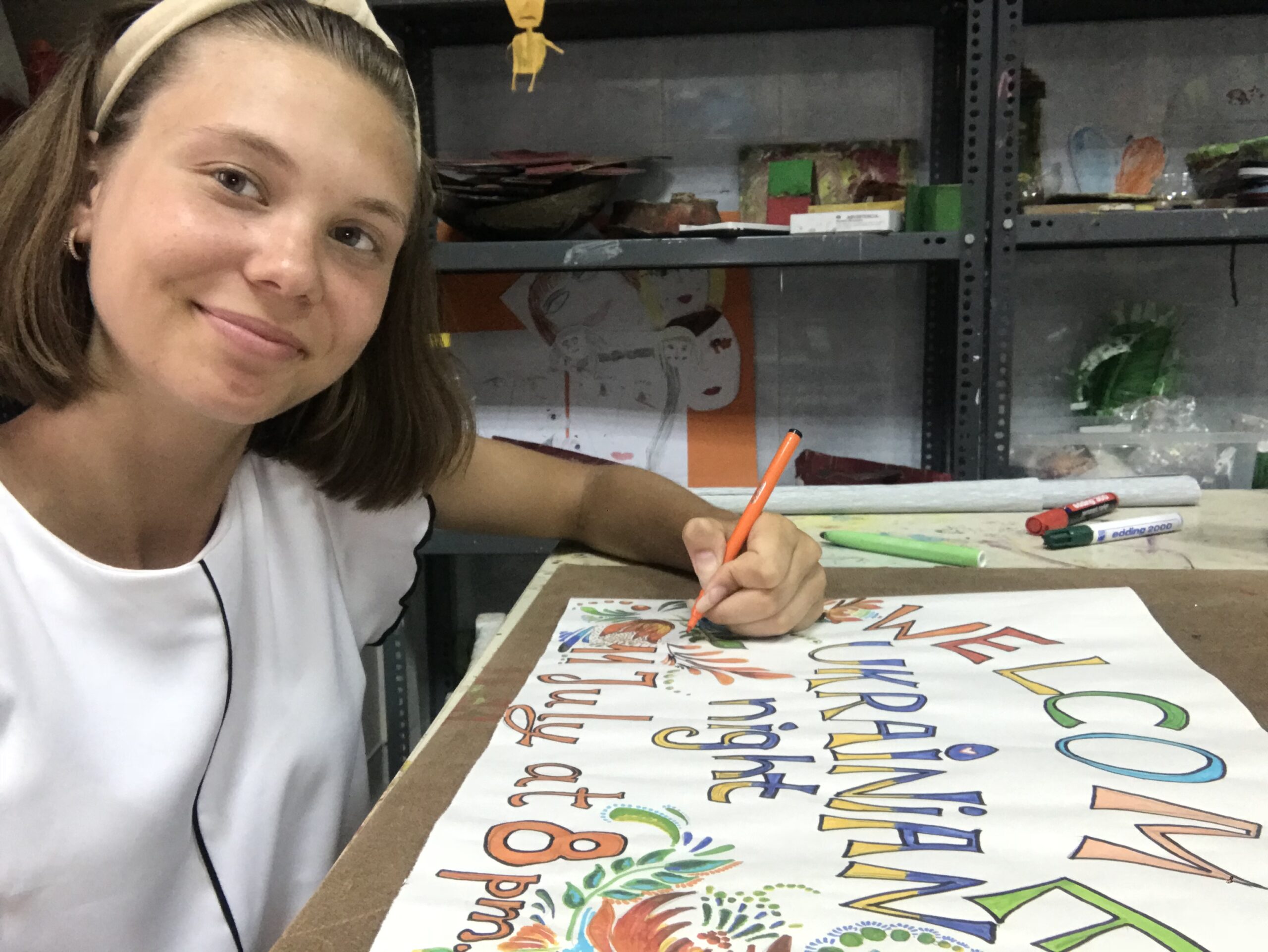 I was standing in front of people from different countries and telling them about Ukraine. I'll never forget the children's eyes when they were watching a video about the nature of my country and their happy smiles after trying our traditional food. It was an incredible moment, but now I'd like to tell you my story from the very beginning.
It started last summer (2019) when I decided to apply for AIESEC project "InteGreat", that tries to solve the 10th Sustainable development goal– to reduce inequalities. My attention was attracted by Welcommon Hostel in Athens, Greece that aims to help refugees and I became a volunteer for 6 weeks for the social cooperative "Anemos Ananeosis / Wind of Renewal" running the innovative Welcommon Hostel. It was unforgettable time that brought me lots of new acquaintances and valuable experience. Besides 14 refugees from Pakistan I met 16 volunteers from the United States, Italy, Turkey, India and China and each of them was so unique and special for me.
As a team we decided to create some intercultural activities for these children and teens refugees in particular, and just for every one who wanted to try something new. These activities included art classes, drama club,  studying foreign languages and even photography classes. However, it was really difficult to be on the same wave length and find common ground, because we are so different, with our own visions,  religions,  beliefs and cultures. That is why we also created culture-party nights to represent various nationalities. And it was a great opportunity to have fun, and most importantly to learn more about world cultures and get to know each other better.
As an Ukrainian, I wanted to share with everyone our delicious traditional cuisine, music, dances, clothes, and give some inspiration for every person present there. Despite being the only Ukrainian, I did not feel alone, because the volunteer team was super fantastic and so helpful.  We prepared traditional food varenyky and some sweets,  talked for hours about Ukraine, watched photos, videos and even tried to learn a few Ukrainian words.
Besides Ukrainian night, we also had Italian night, and even Rice night to show how the same product can be cooked in different cultures. Moreover, the refugees organized Pakistan events for all of us.
Also, the project contributed a lot to my personal growth. Before it  started I had written a letter for myself in the future to see if my expectations will be realized or not. I felt so enthusiastic and wrote about my wish to make a difference in these people's lives,  and change them as much as I could. And after the project I was surprised to see that the person, who I had changed the most was me. I have never travelled alone for such a long period so it was a cool challenge for me. Each refugee, each volunteer, hostel stuff, my room mates, all these great people made a huge influence and impact on me. I became more confident, learnt to work in a team,  experienced new cultures, new life stlyles and what is the most important, I met a lot of amazing people. I am still in touch with lots of them and I'm so thankful that life has brought us together.
These 6 weeks full of unforgettable experience with wonderful people will stay in my heart for ever.
From the bottom of my heart with all the very-very best to every one, who was with me on this project and for every one who is reading it right now and is going to become a part of this trip just for a while.
Thank everyone for this great time
With love,
Cutie Kate from Ukraine