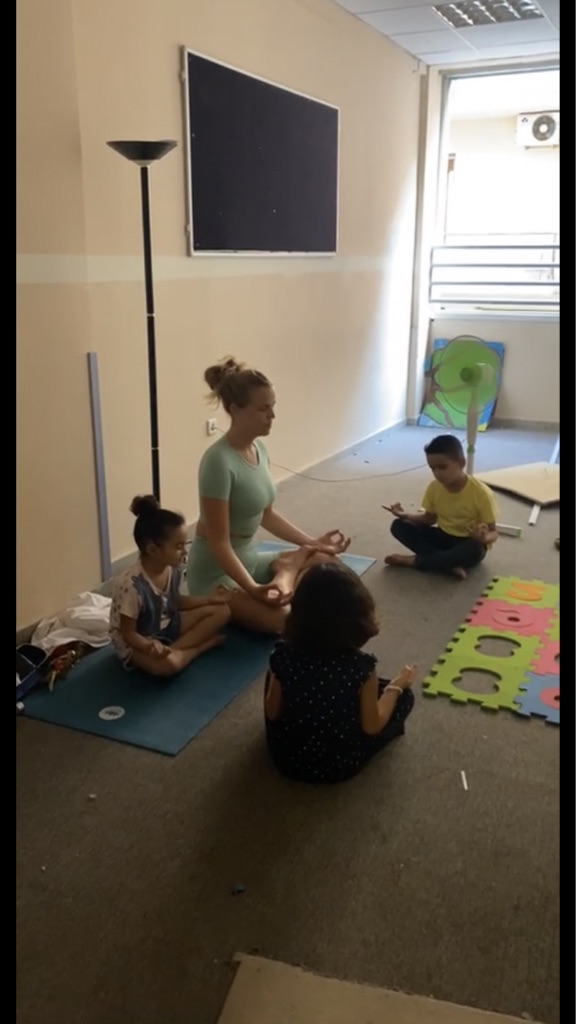 My name is Bente
I stayed at the Welcommon Hostel in Athens from August 4th until September 4th with my friend, participating in the European Solidarity Corps project of Anemos Ananeosis / Wind of Renewal. To explain the Welcommon Hostel a little bit, the name "welcommon" means welcome in common, which actually fits to this hostel perfectly: during my stay I've met tourists, refugees, other volunteers, the workers there and youth groups that all together filled the hostel with life. We all lived there together in a community and all of them became an important part of this amazing experience.
To start this report, I'd like to talk about my expectations before coming to the welcommon hostel.
My expectations
To be completely honest, I did not really have any expectations before coming to this hostel. My friend and me found this project on a website called workaway, which is a website, where people can share projects all over the world. People that would like to volunteer at those projects can get in contact with the hosts by simply texting them and then hope for an answer.
The communication with the organisation Anemos Ananaeosis and the Welcommon Hostel was super fast and easy. We got an answer right away and were informed about the European Solidarity Corps project, that the organisation and the Welcommon Hostel are taking part in. We were told, that we were supposed to give classes about environmental education, because that was one of the two the main topics of the European Solidarity Corps project, which is why I expected to teach a little about environmental issues and how to reduce them. Other than that, I expected some typical hostel work like cleaning or working at the reception etc because in the end, the welcommon hostel is not only a community project but also a hostel for travellers.
My experiences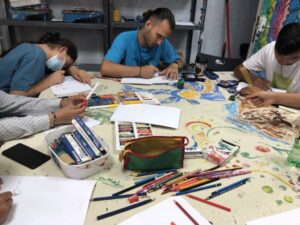 My very few expectations did vary from reality. There was not really a lot of "hostel work" for us to do, though we did stay at the reception in my last week, because there was a lot to do for the receptionists. Our main task was to give classes to everybody that would like to attend. I gave intermediate English, advanced beginner German and art classes and connected them with the task of environmental education asked for by the European Solidarity Corps project: some art classes consisted out of experiences of the students with climate change or pollution and how they felt about it. In the end we talked about what the causes are and how to reduce
them (shown in the picture to the left).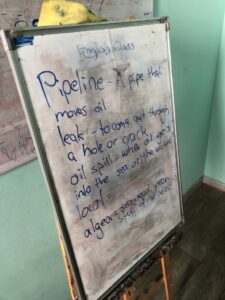 In my intermediate English class we also talked about environmental issues, for example the leak of the oil pipeline in the beginning of august in Trinidad, and how oil is harmful for the environment and the animals in the marine ecosystem. (some of the vocabulary is shown in the picture on the right on the next page) In my advanced beginner german class, I mostly did grammar and vocabulary, because there was no way we could have talked about environmental issues, because it still was a beginners class, so there was obviously a lack of vocabulary and grammar for this topic.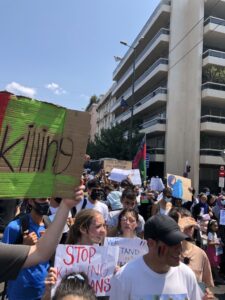 The most important and also the talks I remember most were the talks about Afghanistan in all my classes (mostly in my english intermediate class). To explain this a little further, during my stay at the hostel, the Taliban took over in Afghanistan, and with the backround of a majority of my students fleeing from Afghanistan, these were very emotional and touching talks we had in class. During my class, one of my students invited us to a demonstration in athens against the taliban, wich was also a super intense experience (picture to the left).
We also played with the children at the hostel from time to time. One time, for example, we did yoga with some of the kids (picture to the right). We also went to a park with them a couple of times. It was amazing to see how motivated everybody was to learn things or how advanced some of the children already were in a language that was not even their mother language. Though there obviously was a language barrier, it was super easy to communicate with everybody.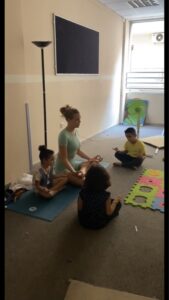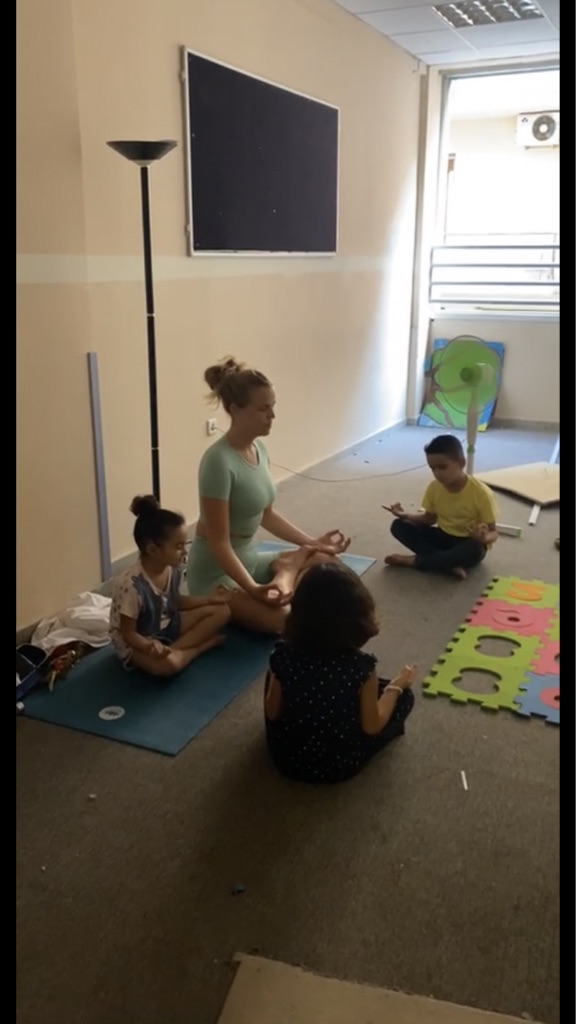 To be honest, the talks that I had at the hostel in general were the thing that made my experience so unique: I learned so much about different lifestyles, different cultures and experiences, that I have never experienced in my whole live, which also made me change my perspectives on everything. Also, the community we have had there was a huge part of me feeling super comfortable there: Not only my students or the loving and generous families at the hostel, but also the team of volunteers and workers at the hostel made my time super enjoyable. I have made super close friendships in such a short period of time, which made leaving super hard.
All in all, this experience at the welcommon hostel was super intense, because of all the new things I have learned, but so very worth the while, exactly because of these changes concerning my perspective etc. I gained so much, because of this amazing community, for myself and also for my way of thinking for the future and seeing things in a different light.
Bente Wilkens, 16.09.21, Techau, Germany