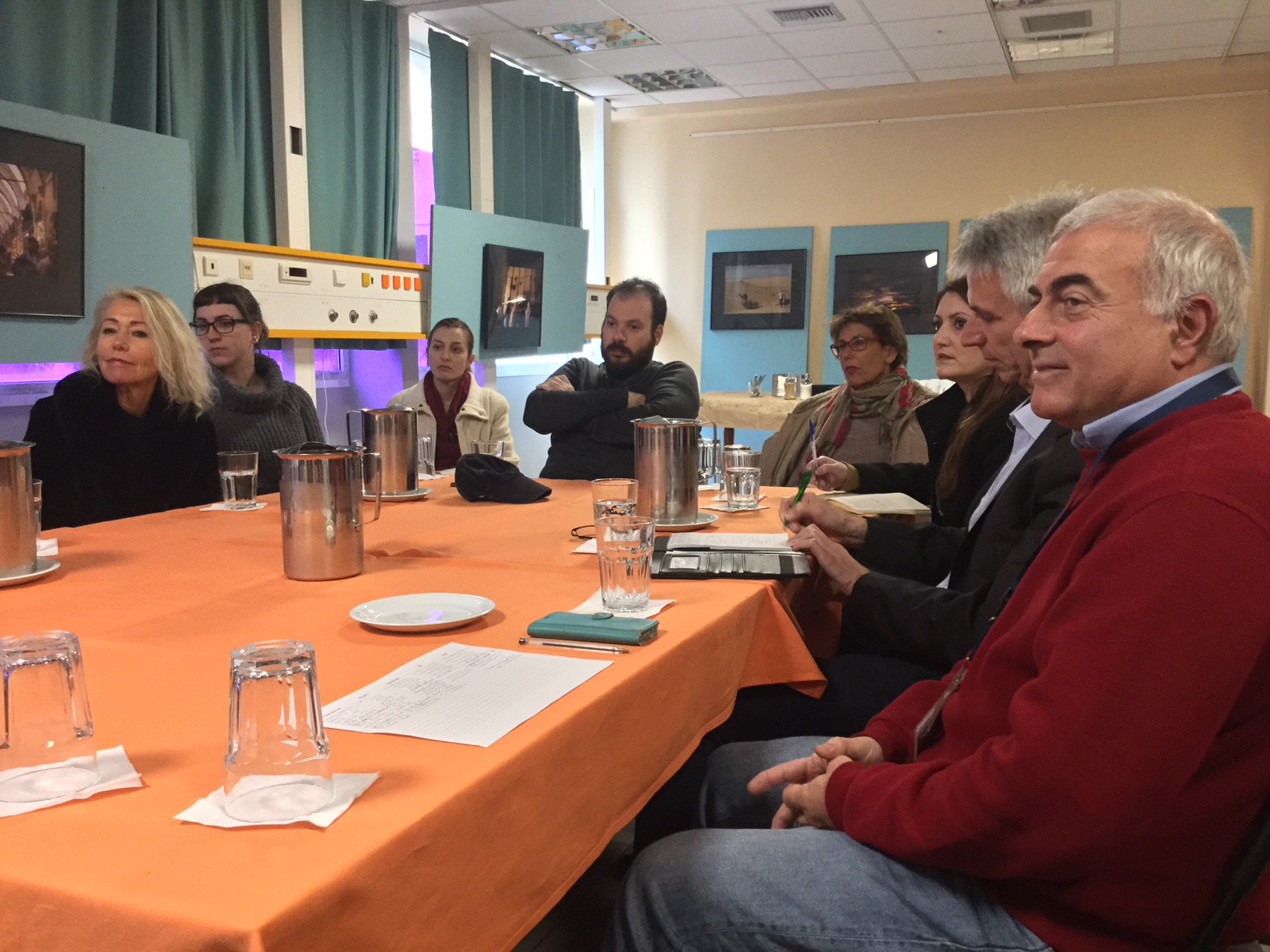 Meeting for the collaboration between Greek organizations participating in EUKI climate programs
The social enterprise Anemos Ananeosis / Wind Renewal and the program Graeducation co-orgnanised on 7th of February in the WELCOMMON HOSTEL a meeting of representatives of Greek organizations participating in EUKI (European Climate Initiative) projects.
The main aims of the meeting were:
– strengthening collaboration and exchange of knowledge and experience between the participating organisations, universities, NGOs, research centers.
– promotion of synergies and common initiatives for climate protection, just energy transition, training and creation of new jobs in renewable energy and energy saving
The meeting was an opportunity for the representatives of seven EUKI projects to know each other better and exchange their experiences from climate actions, programs and activities in cooperation with their european partners.
The social cooperative Anemos Ananeosis/Wind of Renewal, which was the hosting organisation of the meeting, was represented by Nikos Chrysogelos. WoR participates in two EUKI projects: Climate Schools Be.Ath and YESClima "Young Experts for Climate-friendly Schools in Mediterranean countries". Four young experts of the YESClima project participated also in the meeting: Mr Ioannis Kotsalos, Technician of Heating, Cooling and Electrical Systems, Ms Dimitra Apostolopoulou, Engineer of Renovation and Restoration, Ms Agapi – Evaggelia Tsampazi, Civil Engineer Msc and Ms Sofia Papadopoulou, Energy Engineer Msc.

The project Graeducation Research, Development and Testing of Education Services with main aim the improvement of the education of "Green Professions" in Greece was represented by Ms Silke Steinberg and Stamatia Aidonidou, who cooperate with FIAP e.V. (Institute for innovative and preventive job design) and Mr Wolfgang Jung and Rall Engelbrecht-Schreiner from Technological Park in Gelsenkirchen.

The project ENCREMENCO, ΕΝhancing the Capacity of Regions & Municipalities to participate in EΝergy CΟmmunities, was represented by Mrs Papamikraki and Mrs Korna from Center For Renewable Energy Sources and Saving.

The project BEACON, Bridging European and Local Climate Action was represented by Ms Tzanakaki Evi from Center For Renewable Energy Sources and Saving.

The project CYCLEURBAN was represented by Mr Thanos Vlastos, professor of National Technical University of Athens.

The project Just Transition Eastern and Southern Europe, was represented by Mr Stavros Mayrogenis from WWF Greece.
Olga Drossou, director of the Heinrich Boell Foundation in Greece participated in the meeting as an observer.
The European Climate Initiative is a financing instrument of the German Federal Ministry for the Environment, Nature Conservation and Nuclear Safety (BMUB). The overarching goal of EUKI is to foster climate cooperation within the European Union in order to mitigate greenhouse gas emissions. It does so through strengthening cross-border dialogue and cooperation as well as exchange of knowledge and experience.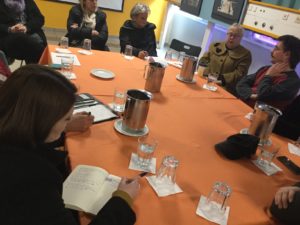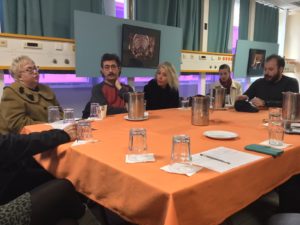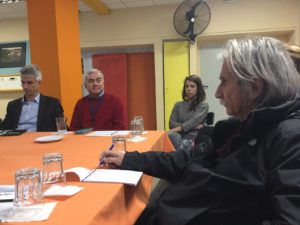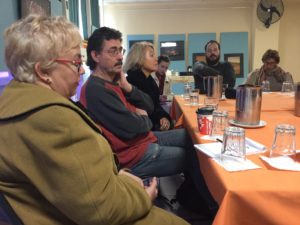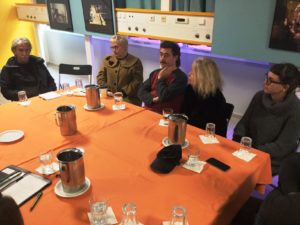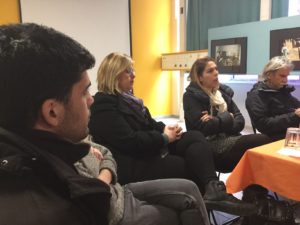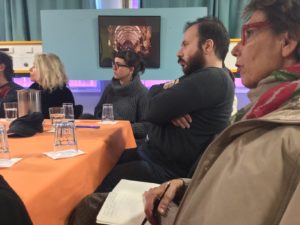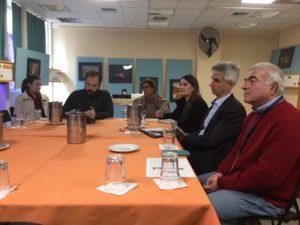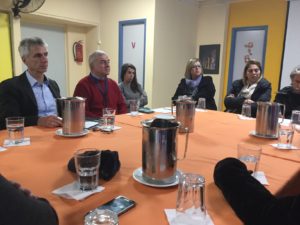 "YESClima"
The project is being implemented by 'Wind of Renewal', University of Cádiz at Spain, Secretariat for Future Studies of Free University of Berlin(Sekretariat für Zukunftsstudien Berlin an der Freien Universität Berlin), and the (APEC -Provincial Energy Agency of Cadiz), Andalusia.  
The aims of the project are:
– Climate protection and energy saving
– Reduction of energy consumption and the ecological footprint of schools
– Education and training of young people in order to work in energy saving issues, natural heating and cooling systems.
– To familiarize young people with scientific – technical issues, economic issues, entrepreneurship and legislation on climate protection, and more specifically energy saving and energy inspections and interventions.
During the project "YESclima – Young experts for climate friendly schools in Mediteranian countries" 11 young people from Greece and 11 from Spain, organized in three groups, will have 6months theoritical and practical education so they can work in the energy saving sector and natural heating and cooling techniques in buildings.
The program is based on the results of the EUKI project ZEWklima, research and study program completed in the spring of 2018, coordinated by the Hoheschule Technic and Wirtschaft (Berlin School of Applied Science, Technology and Economics), the Berlin Free University, the University of Cádiz and Anemos Ananeosis / Wind Renewal, about the reforms needed in education so that young people can work professionally in areas that promote energy saving and renewable energy.
Climate Schools Berlin-Athens is a 28-month project aiming to augment the awareness of climate change and energy consumption in the school communities of the Municipality of Athens (MoA).
It consists of 4 axes:
Training of trainers, training of teachers, implementation of educational activities in 73 pilot schools, dissemination events. All these, in parallel with ongoing field research at the pilot schools, with the participation of the teachers who are involved to the project.

Climate protection awareness campaign and creation of a network with the participation of the pilot schools.

Increase of energy efficiency in the pilot schools (at least 5% reduction of energy consumption per school)

Development of the MoA action plan for all the schools of the Municipality, aiming at the augmentation of the ecological awareness in school communities and the reduction of Energy consumption in the schools.
Experience is gained through the collaboration between Greece and Germany on both educational and technical issues, such as energy efficiency and refurbishment of schools or involvement of teachers, pupils and parents, as well as through the cooperation between partners from the two cities: Municipality of Athens and Anemos Ananeosis/ Wind of Renewal from Athens and Respekt für Griechenland e.V. and Unabhängiges Institut für Umweltfragen, from Berlin.
The program emphasizes in the dual education of professional education and job training in Greece which could lead to a cooperative dialogue between companies and educational institutes, something which is really important for the Greek market. Given the today's challenges, the transfer of knowledge between Germany and Greece can contribute to the development of the professional training in those two countries. In the same time, it is important to develop the idea of professional training in those two countries, since it is not very commonly held. 
The goal of this project is to develop tailor-made transition strategies for the economic transformation of specific regions in Bulgaria (Southwest Bulgaria), Greece (Western Macedonia), and Poland (Silesia) away from coal and towards sustainable economic activities. Each transition plan will form the basis for advocating Just Transition pathways and region-specific options at national and EU level.
Bridging European and Local Climate Action (BEACON) is a project promoting climate action and facilitating an exchange between national governments as well as municipalities and schools in Europe. The aim of the project is to strengthen bi- and multilateral cooperation and create common ambition to realize the Paris Agreement.
ENCREMENCO, ΕΝhancing the Capacity of Regions & Municipalities to participate in EΝergy CΟmmunities
The project is about exchanging experiences, knowledge and practices between Greece and Germany concerning practices and good examples of Energy Communities.
CYCLEURBAN, Cycling as an Element of Urban Climate Mitigation Policy
The project "Cycling as an element of urban climate mitigation policy" (Cyclurban) will advance cycling as a measure for sustainable urban mobility and climate mitigation on a local level. In particular, the project will look at the current situation and develop measures to strengthen cycling mobility in the areas infrastructure, policy and planning, services and promotion, also taking into account new developments such as e-bikes and cargo bikes. It will demonstrate how to integrate cycling into municipal strategies in one city in each of our five target countries: Tartu (Estonia), Riga (Latvia), Warsaw (Poland), Velika Gorica (Croatia) and Vrilissia (part of Athens, Greece). Each city will develop own specific strategies to advance urban cycling mobility. In a second step, the project will also provide recommendations on how cycling can be supported on the national level. In seminars and with the help of lessons learned publications, it will disseminate experiences to reach more municipalities and decision makers.
#ClimateAction @EUKI_Climate #YESClima #ClimateSchoolsBe.At