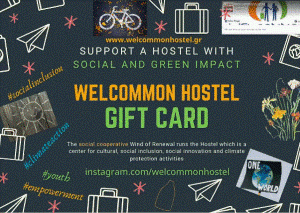 Milestones towards the future: Pathbreaking examples of cooperation, mutualisation and solidarity in urban and rural areas, promoted jointly by cities/regions and the social economy
Support our WELCOMMON HOSTEL, a hostel with social and green impact
Anemos Ananeosis/Wind of Renewal has a strong commitment to building a better world through 

social and green innovation,

green and social economy

and the cooperative business model

. We want to influence the direction of our society to become more sustainable and ecologically and socially fair. 

The social enterprise Wind of Renewal / Anemos Ananeosis (WoR) was constituted in Greece in 2014 for the promotion of social cooperative and responsible economy, social entrepreneurship, green-circular economy, eco-social innovation, intercultural dialogue and the protection of environment.
Our flagship activity is t

he 

WELCOMMON HOSTEL

 a

new Hostel

 in Athens
WELCOMMON HOSTEL is an innovative hostel with social impact as well as a center of social and green innovation, intercultural dialogue and socializing.

We operate 'for good and not-for-profit' which means your stay should be cheaper while contributing to something amazing like social empowerment, social inclusion, green transition, comic and language lessons, arttherapy projects. Any surplus of funds will be reinvested in affordable hostelling and social / green projects, not shareholders

.
Booking now your stay in  WELCOMMON HOSTEL ensures we can continue to offer our services and social – green activities.
Until the
31st of May

our Welcommon Hostel remains closed

#

COVID19

. We will re-open on

1st of June

. As we are hard influenced by the COVID-19 and the lockdown, we need your support.

You can save our hostel from the devastating financial effects of the COVID-19 crisis and support our social, cultural and environmental activities.
Special offer for you. Create memorable moments with WELCOMMON HOSTEL whenever you are able to come and transform your ordinary trip into an extraordinary one! Discover the real experience staying in our innovative and with social impact WELCOMMON HOSTEL and participate in a number of social and cultural activities without cost for you. At the moment digital, we hope soon face2face.
The visitors can discover the creative side of Athens. We "promote" our WELCOMMON HOSTEL to
Universities, social groups, social enterprises and cooperatives
which plan to visit Athens or provide support through campaigning our project. Our guests can participate in workshops, art exhibitions, activities, networking, youth meetings, youth exchanges like Erasmus projects. 
With a lot of effort and hard work, we succeeded in creating an innovative Hostel in the center of Athens, which aims to have sustainable models of tourism and at the same time provide the space for non-formal education and social inclusion for about 50 refugees daily. It is also a place for art and culture as well as a social and green entrepreneurship.
www.facebook.com/welcommonhostel
www.facebook.com/daysofwelcommon
www.facebook.com/socialcooperatives
#Sustainability #Athens #cooperatives #SocEnt #innovation #social
#inclusion #withrefugees #WelcommonHostel @Social Cooperatives
#sustainabletourism #education #youth #Erasmusplus #volunteers #art
Contact us: info@welcommonhostel.gr or windofrenewal@gmail.com